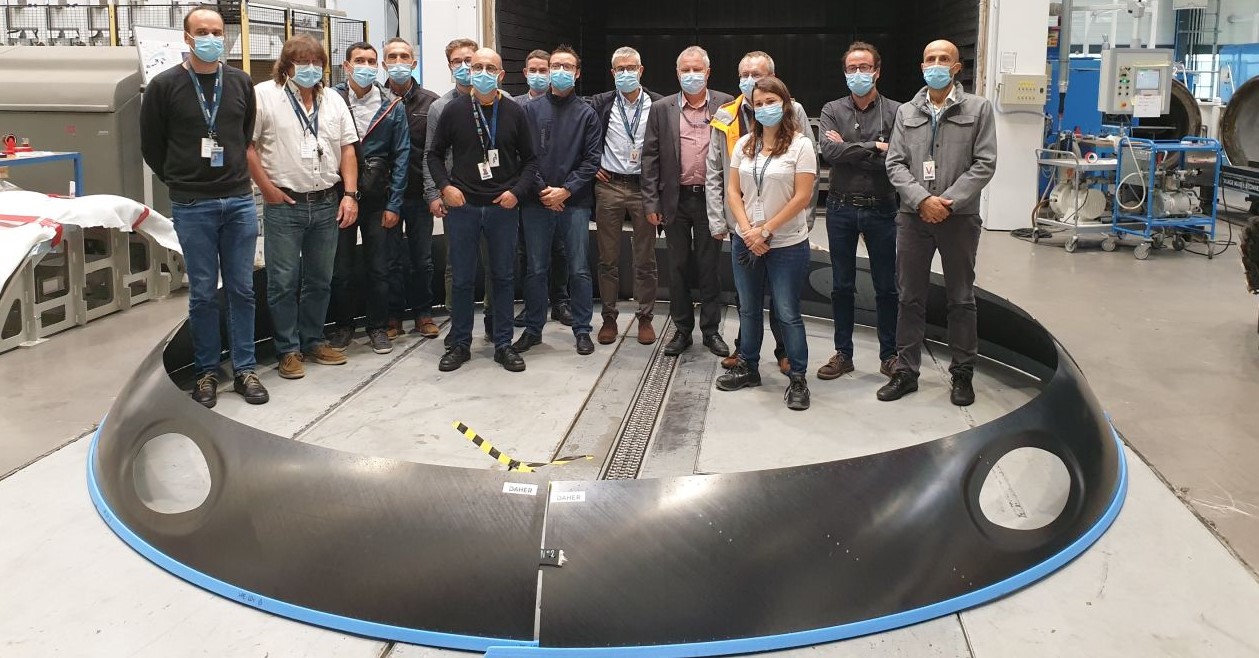 The November 26 Sampe France technical e-day on the subject of "Are we ready to design and manufacture at the same time as controlling our environmental impact?" gives Daher another valuable opportunity to highlight its leadership and the relevance of its longstanding strategy for identifying new, more efficient and more eco-responsible aerospace industry applications for advanced composites and processes.
Improving the aerodynamics and overall eco-efficiency of commercial aircraft is the ultimate goal of the Airbus Wing of Tomorrow program to develop the next generation of wings for New Single Aisle aircraft. This program addresses many challenges, including shorter time-to-market, lower costs, higher performance, reduced weight and faster production rates. The fact that Airbus has contracted Daher to design and manufacture a thermosetting composite false spar and five high-load thermoplastic ribs for this major R&D project reflects the aircraft manufacturer's desire to benefit from the unique expertise developed over many years through a methodical sequence of R&D projects.
"This year's delivery of these ribs – which are large, complex structural components of variable thickness subject to high stresses – is the culmination of the strategic decision taken by Daher more than ten years ago to focus its R&D efforts on directing the transformation of the Group towards the design and manufacture of higher added value composite components," explains Dominique Bailly, Head of R&D at Daher. "By very quickly identifying and focusing on two priority areas – the wing and the engine environment – we have been able to prepare a technology roadmap that will allow us to offer distinctive and competitively priced solutions that succeed in the challenges faced by the aviation industry, and to do so on time, at the right level of maturity and at the right cost. Those efforts are now beginning to pay off."
Wings: a phased approach to gaining maturity
In terms of wings, Daher targets three categories of component: integrated-function spars, ribs and torque boxes. Its key strength in this market is its ability as an aircraft manufacturer to develop and test its innovations on its own light general aviation aircraft before scaling them up to larger aircraft types.
The first major project is the EcoWingbox, a large 14-meter long carbon composite wing developed between 2009 and 2014 for a Daher aircraft project. The curing process for this large-scale component replaces the autoclave with a curing oven which offers the same production capacity at much lower cost. "For the capital investment cost of an autoclave, we can have 5 ovens, which in turn allows us to meet the challenge of accelerating aviation industry production rates," explains Dominique Bailly. So the same process will be used for all subsequent projects.
In 2017, Daher embarked alongside Dassault on the CORAC (French Civil Aviation Research Council) 'Composite Aircraft of the Future' project, for which it has designed and produced a first thermoplastic rib and a 100% thermosetting composite rear spar cured out-of-autoclave. So the adventure continues, and Daher is gradually advancing the maturity of its expertise in manufacturing complex composite components. "Larger components subject to higher stresses, incorporating more functions, variable thicknesses, etc.," lists Dominique Bailly. "This project has also given us the opportunity to design, produce and full-scale test our first rib made entirely of thermoplastic, which is a key material for certain types of future aerostructure, because it allows us to produce lighter, stronger components than was possible with the metals previously used, and to do so at lower cost and higher speed."
As a result, Daher is now ready to move on to new levels of complexity. Its lead in these technologies enabled the Group to join the ambitious Airbus Wing of Tomorrow program in 2019 with responsibility for the design and manufacture of some of the program's most critical and complex components: a 100% thermosetting composite rear spar cured out-of-autoclave, and five types of thermoplastic rib showcased at the 2020 technical e-day event hosted by Sampe France.
"We are very proud of being able to meet the very high expectations of Airbus for this project, and to have been one of the first partners to deliver our finished products. This achievement further underlines our level of maturity in advanced composites. It also substantiates the relevance of our strategic choices, because we began focusing on developing these key wing components back in 2009!"
Daher is now adding another new string to its bow: no-rivet thermoplastic induction welding, which will deliver significant savings in terms of weight and aircraft assembly time. "Here again, we're using our light aircraft to demonstrate the merits of this technology and our ability to design and certify what is a critical component. We're involved in the R&D aspects of the CORAC Trampoline project on an example of a torque box welded to the horizontal fixed plane of the aircraft. Our goal for the future – once our designs have been validated – is to spread this technology among our customers and partners by progressing to conducting tests on the moving parts of the wings and/or tails of larger aircraft. Having our own aircraft gives us a unique experimentation and demonstration platform around which we have structured our in-house innovation program, and which we can share with our partners in general and other aircraft manufacturers in particular. We have the ability to conduct small-scale testing of new technologies and their potential for certification as the basis for our customers to assess the feasibility of scale-up for their own programs. And the same opportunity is also open to engine manufacturers…"
Wider horizons in the engine environment
Daher's engine environment strategy has taken a decisive turn with the production of the first thermoplastic structural component: the air intake bulkhead for a demonstrator of the revolutionary Rolls-Royce UltraFan engine. At several meters in circumference, this component is assembled from 4 separate sections, and is one of the largest ever created in thermoplastic.
Rolls-Royce has contracted Airbus to develop the nacelles that will carry this new-generation engine, which is designed to drastically reduce fuel consumption (by around 25%) and noise pollution on long-haul aircraft. The UltraFan will be the world's largest aircraft engine when it enters service towards the end of the decade. The challenge for Airbus is to design a nacelle of unprecedented size without increasing the overall weight of the aircraft. Massive use of the latest composite materials is therefore essential, and the decision to use a 100% thermoplastic solution for the air intake bulkhead is a world first. With its existing involvement in the Wing of Tomorrow program and proven ability to fabricate particularly complex thermoplastic components, Daher was the natural choice to produce this challenging component.
"Airbus has responsibility for design and the choice of materials, but we've engaged in a full-on co-engineering process with them to ensure that the part can actually be produced – and at the right price – using Automated Fiber Placement (AFP) technology, which we were one the first to apply consistently and successfully at the right level of quality," explains Alexandre Lambert, R&D Project Manager at Daher. "But it was still a major challenge, given the component specifications, and especially its large size, very thin walls and its conical curved shape… It was a very complex equation, but we managed to solve it in complete compliance with the specifications set by Airbus. The component we produced has now been accepted for the mechanical flight tests scheduled for 2023. It's a matter of great pride for Daher to be able to fly thermoplastic components in the engine environment."
From left to right: Manufacturing at Daher of the thermoplastic air intake bulkhead for an UltraFan Rolls-Royce demonstrator ; Airbus' and Daher's teams inside the first demonstrator
After more than two decades of achievements in propulsion, this flagship project strengthens the position of Daher in three key areas: the pylon environment (RSS[1]), the nacelle environment (AIOS[2] and acoustic shrouds) and the warm engine environment. In each of these areas, Daher is now focusing its research and development efforts on high value-added structural components that will help engine manufacturers to achieve performance and competitiveness gains by 2030.