For sustainable leadership in the industry of the future
Sustainability and durability are not empty words for a company created nearly 160 years ago. These intrinsic qualities of Daher result from a strong capacity for innovation and openness for the future.
Reinforced in 2017, Daher's Corporate Social Responsibility (CSR) strategy – which is named "Shaping the Future Together" – is part of the company's "Succeed Together" strategic plan for the 2018-2022 timeframe. Its goal is to make the Group a leader in corporate social responsibility across its sectors of activity by 2022.
The "Shaping the Future Together" strategy formalized Daher's ambitions in achieving its goals and in conducting its operations. The Group has set up an unprecedented and ambitious governance system that brings together risk management, CSR, internal audit and transformation within a single department. Daher's ambition is to create lasting value for its stakeholders, be they shareholders, investors, employees, customers, suppliers or partners.
In 2018, Daher focused on priority challenges – particularly those related to risk management and stakeholder dialog – by constructing a materiality matrix. In 2019, the priorities identified by the materiality matrix and the completion of a comprehensive "Bilan Carbone" ("Carbon Footprint") assessment provided the information needed to specify the central planks of Daher's strategy, as described in this report. Throughout the unprecedented year of 2020, Daher's CSR strategy made a difference across every part of the Group, providing a valuable contribution in making it through the health crisis – as well as the associated economic and social consequences – which significantly impacted the company's business sectors and its employees.
In 2021, Daher capitalized on its experience from the previous year – when the crisis acted as a catalyst for the company's various CSR issues. These now-mature issues are integrated into the measurement of non-financial performance according to ESG (Environment Social Governance) criteria within its operations.
Our commitments
Our implementation of a responsible strategy encompasses three areas of commitment and 12 challenges
Reinforce the cohesion between employees and shareholders
Develop the commitment of employees, as well as management
Ensure diversity and equity
Sustain shareholder governance and the openness of our model of family capitalism
Develop cohesion between our employees and shareholders
2022 CSR indicators
Absenteeism rate : 4.6%

9 projects supported by the family and corporate foundation FONDAHER

25% women in the group

Gender equality index by company (2022/2021):

DAHER AEROSPACE: 78/88
DAHER TECHNOLOGIES: 83/84
DAHER NUCLEAR TECHNOLOGIES: NC
DAHER VALVES: 78/61
GROUP: 83/88
Act as a responsible partner of our stakeholders
Strengthen the employability of employees
Develop dialogue with stakeholders on the areas where Daher is present
Strengthen our approach to responsible purchasing
Integrate CSR into our businesses and offers, which is an added value for our customers
2022 CSR indicators
7,8% of our employees are people with disabilities

Integration of stakeholders in a materiality analysis

79% of employees have completed at least one training

67% of buyers trained in sustainable procurement
Manage our operations responsibly, today and tomorrow
Improve safety for our employees
Minimize our impact on the environment
Maintain respect for business ethics and oppose all forms of corruption
Ensure the security of products, services and data
2022 CSR indicators
52% of our employees work on an ISO 140001 certified environment site

Proportion of employees who received business ethics training: 31%

Lost time injury frequency rate : 14

Carbon emissions from Scopes 1&2 in France : 14471 tons of CO2e
In 2017, Daher made a formal commitment to the United Nations in supporting the UN Global Compact's initiatives for human rights, international labor standards, the environment and the fight against corruption.
In parallel – as part of a broad collaborative approach – Daher identified its main societal responsibility issues. A Steering Committee, assisted by a specialized firm, has relied on the ISO 26000 standard's guidelines to identify its most essential CSR issues.
The dialogue established with Daher's stakeholders through an analysis of essential issues identified:
Four social issues:

The health and safety of employees,

Working conditions and management,

Two governance issues:

Dialogue with stakeholders.
Since 2019, a network of CSR ambassadors actively supports a responsible strategy for the Group at each of its sites or regions. The ambassadors are responsible for ensuring a CSR-oriented mentality on a daily basis with the support of the Transformation, Risks and Sustainable Development Department. Identified and selected by their own managers for the ability to unite and influence Daher teams, these ambassadors provide – with management support – CSR roadmap leadership within their own scopes of responsibility. The ambassadors support the operational departments with shop floor implementation of initiatives, contributing to the Group's non-financial performance.
A true mix of professionals

At the request of the Governance Committee (which is a body of the Board of Directors), a review of professional equality was initiated in 2018. Its focus was based on the following question: In a sector that is typically male, how can greater diversity be ensured at all levels of the business?

One year later, the company launched a dedicated "D4her" program with the aim of promoting professional equality between women and men within the Group.

Daher's determination to ensure its diversity and equal opportunities initiatives in 2021 is what led to the publication of the Equal Opportunities Guide, which proposes a three-part action plan:

Workplace fundamentals, which aim at creating a safe workplace setting and working environment for women;
Open social environment, with the goal of setting the right conditions for female talent development; and
An attractive place to work, which aims at creating the right conditions for making careers at Daher more attractive to women.

Daher's approach as a socially responsible company supports its employees by proposing changes and mobility while securing their career paths.

Throughout the recruitment process, the Group's humanistic values – including respect and trust in relationships, a sense of responsibility, entrepreneurship and movement, creativity and innovation – are omnipresent.

Among these topics of diversity, the company is particularly proud of its support for maintaining the employment of staff members with disabilities. Daher has an exemplary employment rate in its sector of reference (8.6% employees with disabilities as a percentage of all employees).

The quality of life at work

The quality of life at work for each employee is taken into account within the Group, from both the individual and collective points of view.

In each employment area, social services are available to employees and managers in order to process all specific requests and ensure their participation in improvement projects.

In 2021, the second Daher barometer employee opinion survey – which was named "Talk'in" – allowed the company to identify the latest expectations of employees in terms of the way work is organized, the working environment, workplace quality of life, job satisfaction and work/life balance.

The responses received will be used to review and adapt the company's current action plans in ways that more effectively address these expectations. A total of 2,065 employees responded to the 2021 barometer survey.

Fondaher is an endowment fund initiated by the Daher family and supported by the company with the participation of its employees to promote values passed down from generation to generation for nearly 160 years.

Its main mission is to promote sustainable access or return-to-employment for vulnerable groups through training for excellence. To this end, it supports several associations; each year, following a call for projects, it finances more than 10 associations in which the company's employees or members of the Daher family are involved.

Since 2018, some 50 projects have benefited from the financial support of Fondaher via the call for projects (nine of which were backed in 2021).
Since December 20, 2022, Daher has held the RFAR Label and is today, on the 02/01/2023, one of the 79 labeled.

Awarded for a period of three years, the Supplier Relations & Responsible Purchasing Label aims to distinguish French companies that have demonstrated lasting and balanced relationships with their suppliers.

It's the first label in this area awarded by the public authorities.

—————

In order to comply with regulatory requirements and to be aligned with its CSR goals, Daher formalized at the end of 2021 a responsible procurement policy focusing on three key priorities:

Compliance with the 10 commitments set out in France's Responsible Supplier Relations Charter;
Creating value with our suppliers by building strong, long-term partnerships; and
A global initiative that involves every link in the company's supply chain.

Daher has a supplier code of ethics, a responsible purchasing charter, and standard clauses covering CSR aspects in its new contracts.
Daher's consideration of its environmental responsibilities has been well established for some time. As a benchmark industrial player, the Group always has paid particular attention to regulatory and legal compliance with its duties, and has taken care to limit its environmental impact.

In order to contribute to the preservation of resources, Daher set up initiatives to control its waste along with the consumption of energy and water, while at the same time promoting awareness among all its stakeholders.

On the basis of the "Bilan Carbone" ("Carbon Footprint") assessment conducted across all activities in 2019, the Group presented its first Climate Strategy in 2021.

Within this framework, Daher has made four fundamental commitments:

#1: To work on reducing its operational emissions in line with the Paris Agreement (the +2°C scenario);

#2: To make the challenge of reducing CO2e emissions an integral part of of the company's mobility and procurement policies;

#3: To help reduce emissions resulting from the use of the company's products (which alone represent 93% of Daher's carbon footprint); and

#4: To train and inform Daher teams about the challenges posed by the climate transition and the carbon performance of the Group.

The EcoPulse™ distributed propulsion hybrid aircraft demonstrator is part of Daher's  commitment to a decarbonized aviation industry.

Throughout Daher's history, employee safety has always been one of the founding principles of the responsible capitalism strategy on which the Group has been built.

Its uncompromising commitment to employee safety is reflected in the Health, Safety, Security and Environment policy document approved by the CEO. This strategy also is channeled through the SeeD operational excellence program and its SeeD Safety component –which identifies safety as the most important issue and the essential starting point for operational performance.

Since the end of 2020, the management and Governance Committees decided to give new impetus to safety issues, developing the new Safety@Work program to deal with safety and accident prevention from an even more hands-on perspective with annual roadmaps for each region and site.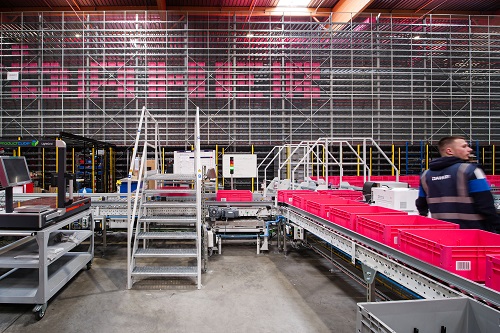 Hestia cuts the energy consumption of logistics buildings by 30%
Hestia cuts the energy consumption of logistics buildings by 30%
At the beginning of 2020, DaherLab began working collaboratively with French startup Kipsum as part of the Hestia project. The Kipsum artificial intelligence solution processes data from a set of connected sensors installed throughout a logistics building. The system creates a digital model of the building and generates an energy consumption profile based on the site's layout, along with its ambient temperature and humidity, ventilation, heating settings, the usage patterns of site personnel…and even predictions of the weather. Energy optimization recommendations are then displayed on a web-based or mobile dashboard. The proof-of-concept launched at Daher's Tamaris site in 2020 was followed by a second at Hub Ouest. One year later, the solution resulted in a 30% reduction in energy consumption at both sites simply by adjusting heating settings. These results are now being assessed in preparation for a potential rollout on a larger scale.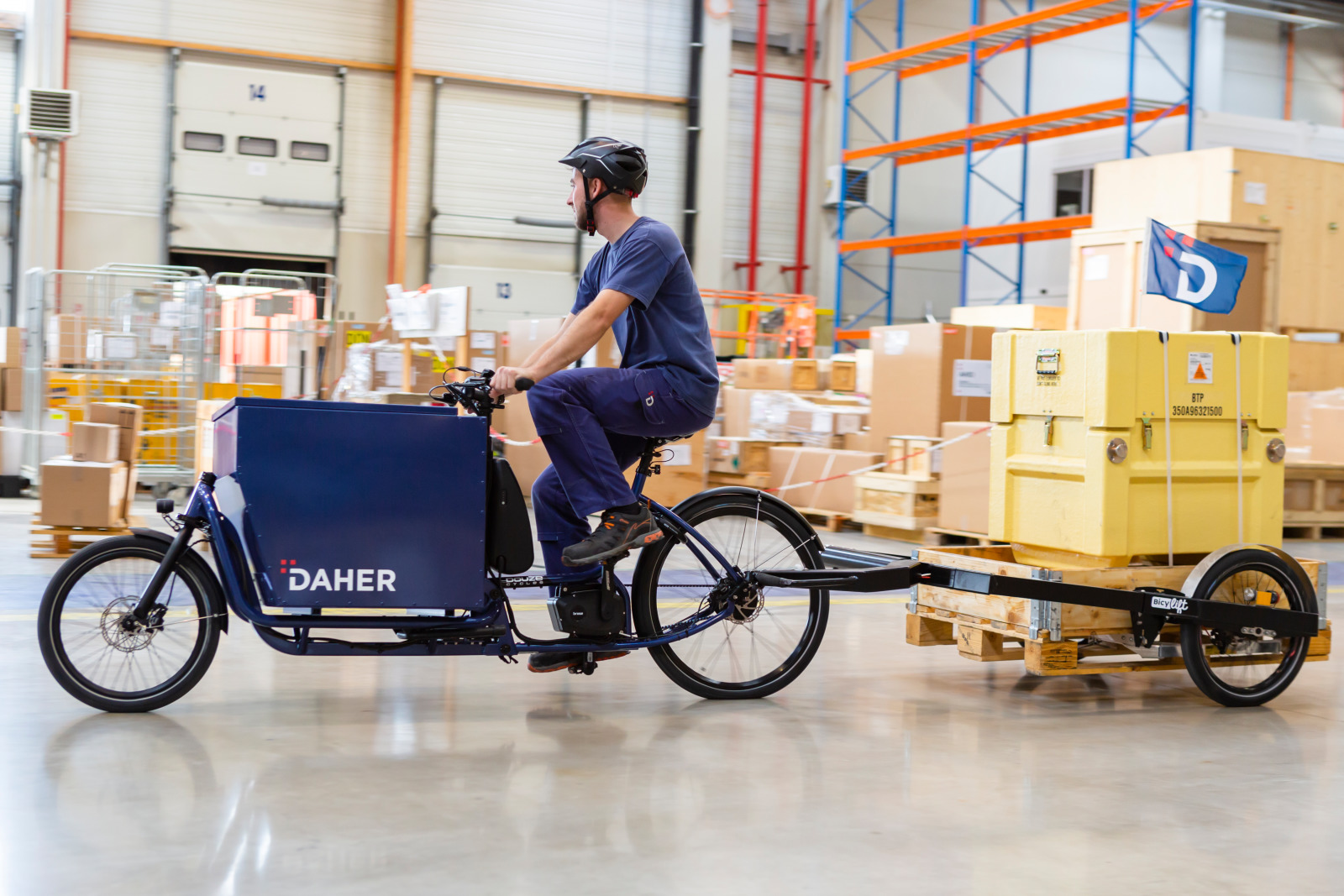 E-cargo bike by Daher
Every day, Daher teams deliver hundreds of packages to its customers' industrial sites – often performed in urgent situations, and sometimes in inaccessible areas. The Daher teams posed the following challenge: Why not take inspiration from the practices that have been successfully developed in many cities?
After testing multiple solutions on different sites, the teams developed the "E-cargo Bike by Daher," an agile, efficient, economical solution that is respectful of the environment and is good for employees' well-being – while also matching the company's vision of logistics for the future.
Watch the "E-cargo Bike by Daher" in action at the logistics hub in Marignane, France: https://youtu.be/r29TCTUiiHI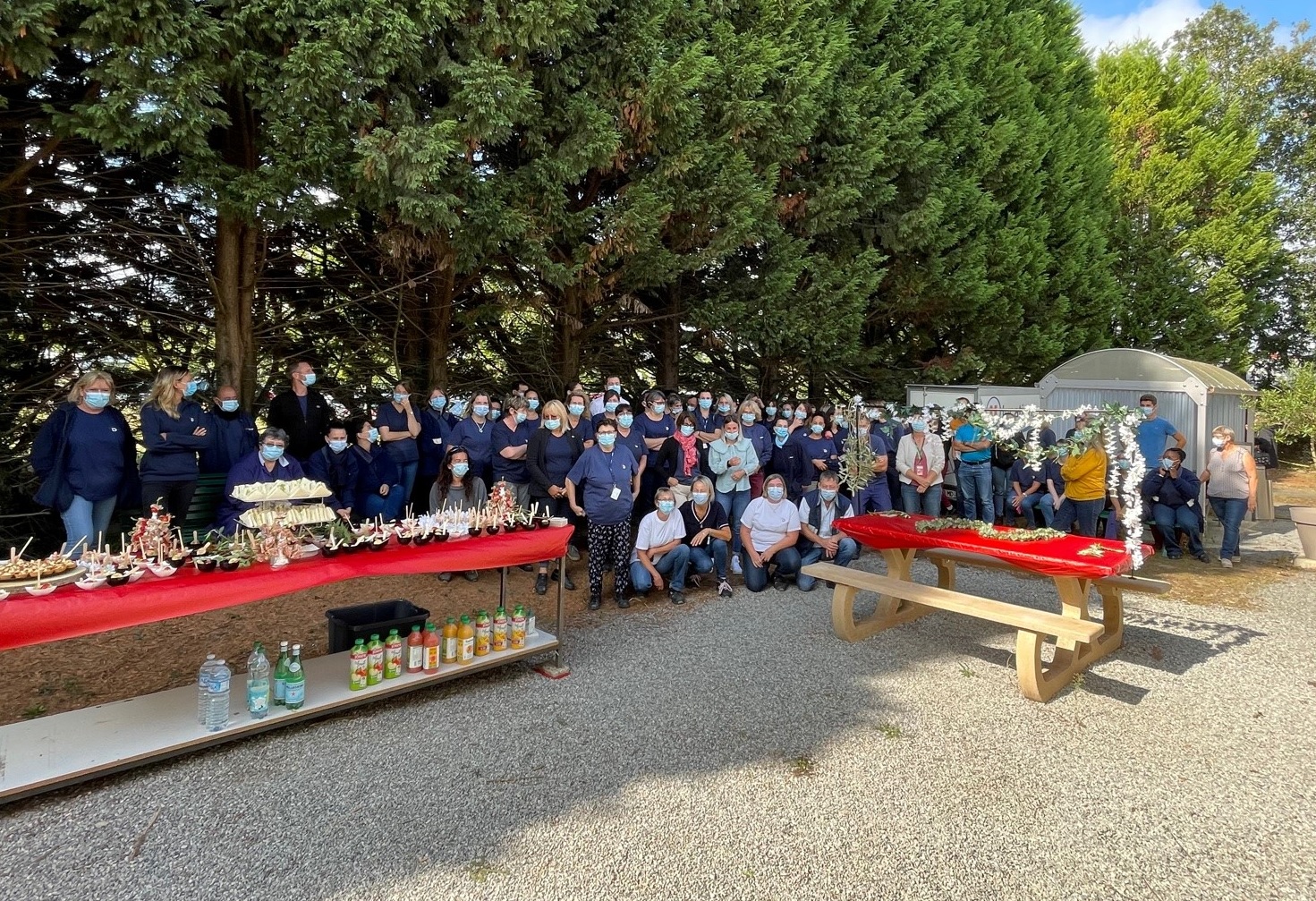 More than 1,000 accident-free days
More than 1,000 accident-free days
In September 2021, the teams at Daher's Brais production site in Saint-Nazaire for thermal/acoustic insulation blankets came together at lunch to mark an important milestone: 1,248 accident-free days – a total that equals nearly 3.5 years. The teams demonstrated a proactive and personal commitment to accident prevention during the past three years, with particular emphasis on the close monitoring of operator practices and actions. This approach resulted in a redesign of the workstation layout to ensure that right-handed and left-handed operators enjoy the same level of safety. The site also has moved ahead with the rollout and systematic application of best practices as part of the Safety@Work program.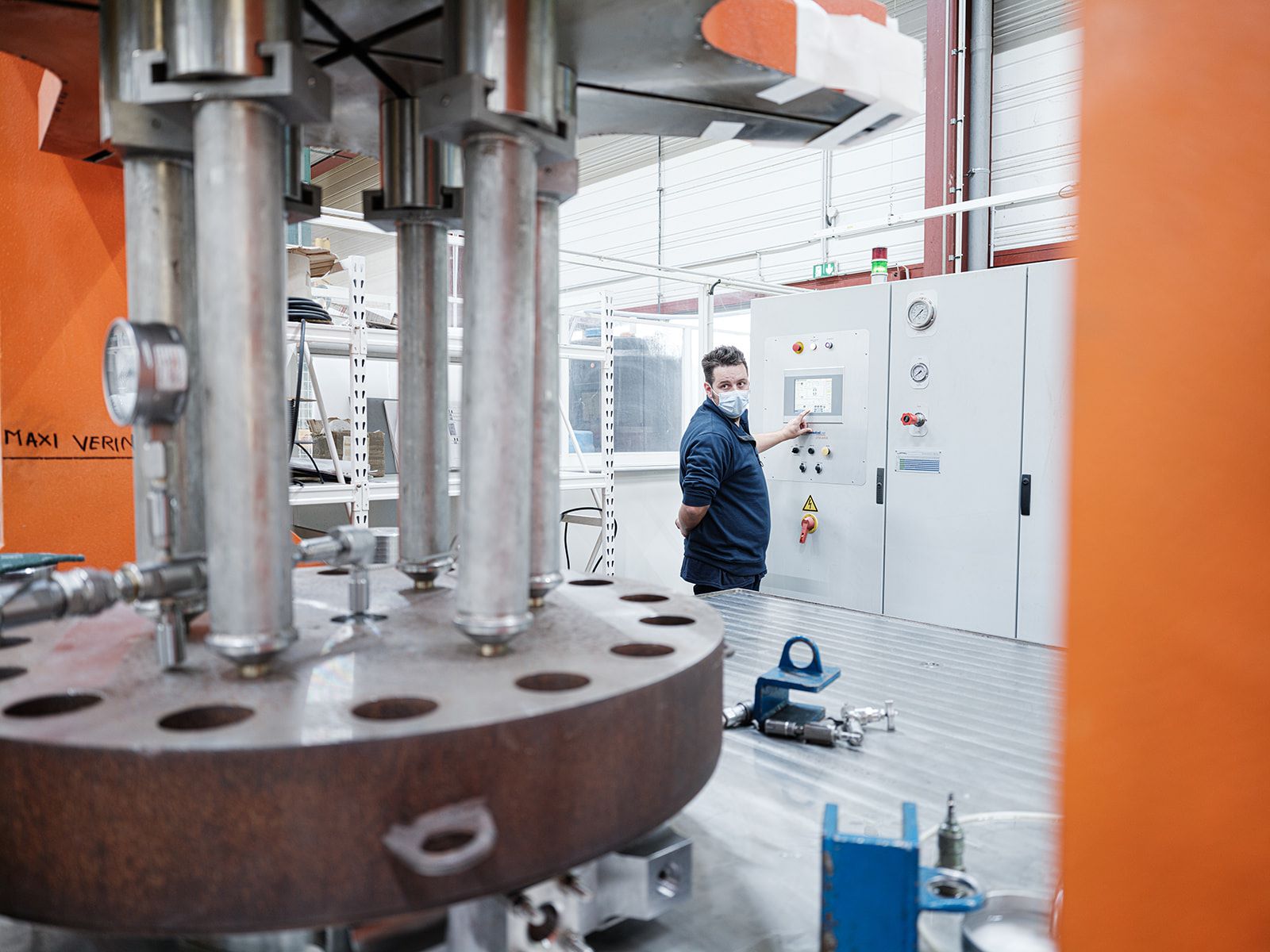 Three sites granted ISO 45001 certification
Three sites granted ISO 45001 certification
The sites at Epothémont, Laudun-L'Ardoise and Saint-Vallier were granted ISO 45001 Health & Safety Management certification in October 2021. The excellent involvement of employees at Laudun-l'Ardoise (nuclear site maintenance, waste management, etc.) and at Epothémont (radioactive waste processing and storage) made it possible for Daher to take a very operational-oriented look at its processes as the basis for developing and implementing practical risk prevention measures.
At Laudun-L'Ardoise, where employees make many business trips, the Drivata solution has been tested to develop/strengthen a culture of road safety and eco-driving by analyzing driver behavior, scoring driver skills and organizing intra-site challenges.
Read our 2022 Integrated Report