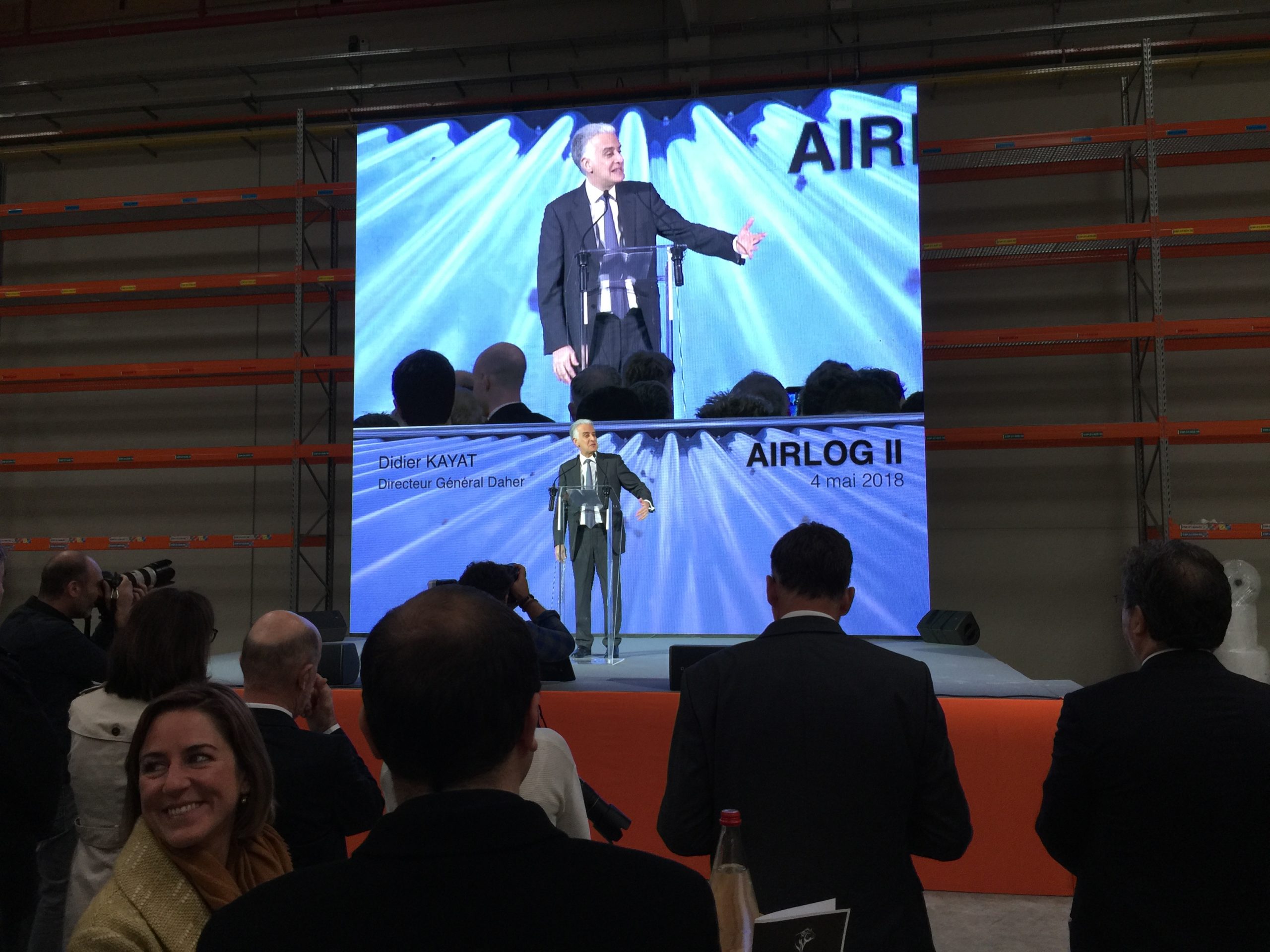 Inauguration of the Airlog II industrial logistics platform in Toulouse
Daher, a key player in the industry of the future, has put its well-reputed expertise in integrated logistics to work for Airbus. Since January 1 of this year, it has handled all of the aerospace giant's logistics operations in France.
In the space of four months, Daher has put 1,600 employees on this assignment and deployed its IT tools at all Airbus worksites. By redesigning its client's logistics operations, Daher aims to make these locations more competitive and more flexible. Daher has been in the supply chain/industrial services business for more than 150 years, which helps explain why it was selected to be Airbus's sole logistics service provider in France.
A successful takeoff marked by operational excellence
On May 4, 2018, Airbus inaugurated the Airlog II platform, which is dedicated to Airbus logistics and to be managed by Daher under this agreement. The new hub is located near Toulouse, home to many aerospace companies.
This new Airbus logistics site (36,000 m2) handles activities formerly carried out by three warehouses. This will not only facilitate logistics, but also optimize performance and process control. It is convenient to the Airbus aircraft assembly sites and to Airlog I, located in Cornebarrieu, which reduces the distances traveled by parts.
Each storage bay at the Airlog II warehouse handles logistics for a particular aircraft program. Daher has been entrusted with all logistics operations for all programs, i.e.:
Receiving parts from other Airbus plants and those of suppliers
Managing warehouse storage
Preparing orders for shipment
Preparing fork-lift trucks to deliver parts to assembly lines.
"In 2012, Daher set out to become a leader in aerospace production logistics. We listened to customers, set up our teams and developed technologies tailored to the specific demands of the aerospace sector. Working closely with all of our partners, we succeeded in winning the Airbus 3PL+ contract for the entirety of Airbus logistics operations in France. Our first challenge was to deploy Airlog II without adversely affecting the assembly chains. Our people worked against the clock to keep performance steady during the transfer of the first site," notes Nicolas Orance, Senior Vice President, who heads the Aerospace and Defense Business Unit at Daher