Daher and Traxens signed an agreement to supply customers' sensitive equipement with smart monitoring and tracking services.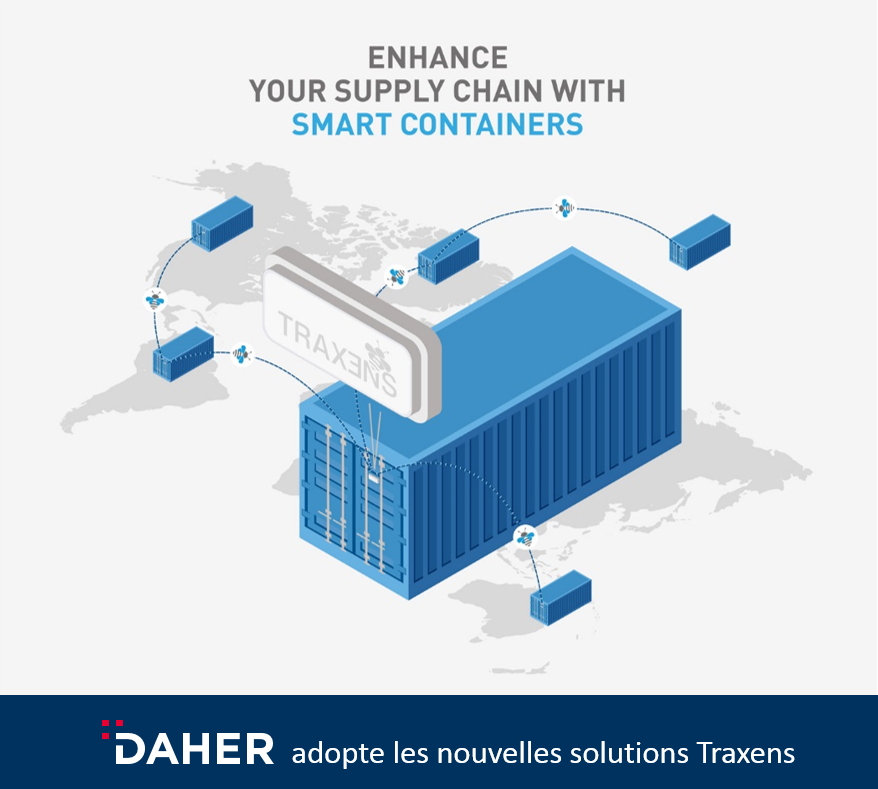 Daher and IoT specialist Traxens will jointly improve supply chain management by monitoring and tracking sensitive equipment
Marseille, France, November 5, 2018 – Traxens, a company providing high-valued data and services for the supply chain industry, and Daher, a leading logistics and service provider, today announce they have signed a commercial contract to monitor and track the fleet of sensitive equipment of Daher's customers.
Since 2016, the two companies have been collaborating and they are now entering a long-term contract, after the market revealed high demand for such fleet management solutions in the aerospace and defence industry. This contract with an industrial logistics partner is the first of its kind for Traxens. The roll-out of Traxens devices will take place progressively with Daher's customers, starting Q4 2018.
As a leading aerospace equipment and service provider, Daher is partner of the world's biggest programs, hence requires highly trusted monitoring solutions. Daher selected Traxens for its best-in-class solution to secure Daher's customer supply chain in the aerospace and defense industries. Traxens' technology will allow Daher to monitor and analyze in real time where and how the goods are advancing through the supply chain process.
"The agreement signed with Daher demonstrates that Traxens is today clearly positioned to become a strategic partner to any company seeking help on regaining control of and value in global supply chains. We are looking forward to this promising partnership," said Jacques Delort, managing director of Traxens.
Traxens' technology is capable of gathering and analysing several types of data specific to individual products. The data is transmitted wirelessly from Traxens' hardware solution, called the Traxens-Box, which, among other features, enables GPS-based product localisation. Customers can then access data through Daher's cloud platform, named Daher Data Analytics.
"We handle complex full-fledge logistics services for Aerospace OEMs and aircraft manufacturers, relying on our know-how and on advanced technologies," said Nicolas Orance, Senior Vice President Aerospace and Defense business unit at Daher. "Using Traxens' reliable and highly-trusted monitoring solution will enable us to strengthen our fleet management services. TRAXENS' data will be integrated into DAHER Data Analytics platform, to better serve our customers."