Daher's Kodiak 100 aircraft goes "virtual" in the Microsoft Flight Simulator with humanitarian and other mission configurations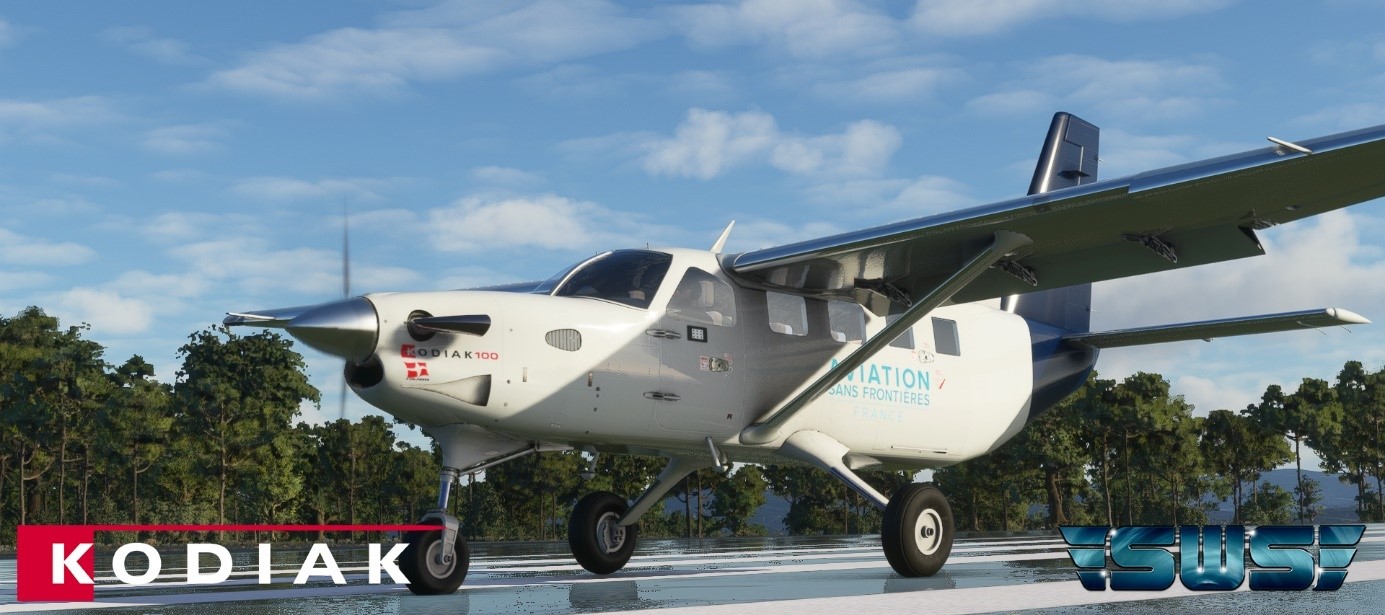 Tarbes, France, January 6, 2022 – Daher's Kodiak 100 has been added to the Microsoft Flight Simulator, generating high praise from users for its authentic flight characteristics when "flying" this rugged single-engine turboprop aircraft in scenarios that include humanitarian missions to unprepared strips, reaching back-country destinations and serving high-altitude mountain airports.
Since its introduction last month by SimWorks Studios, the Kodiak 100 has become a favorite aircraft choice – initially overwhelming the development team's own website due to high demand. Created with Daher's involvement and incorporating the input of actual Kodiak pilots, the SimWorks Studios' simulator program comes in four different wheeled variants featuring 40 different liveries, authentic flight dynamics and high-quality systems modelling.
One of the variants symbolizes the operations of France's humanitarian organization, Aviation Sans Frontières (Aviation without Borders), which is to receive funding based on the add-ons sold via the following sites: simworksstudios.com, orbxdirect.com, SimMarket.com, Flightsim.com and getcontrail.com. This funding comes from money received by Daher through sales of the Kodiak 100 simulator application, which Daher then provides to Fondaher – the endowment fund initiated by the Daher family and supported by the company and its employees as part of the corporate social responsibility (CSR) policy.
Richard Daher, the Fondaher endowment fund's president, noted that the Kodiak 100 simulator is a highly visible aspect of the partnership between Fondaher, Daher and Aviation Sans Frontières – which also includes "Les Ailes de l'Avenir" (Wings of the Future), a workshop program that provides vocational training for young people in difficulty, leading to the construction of a microlight aircraft.
With its introduction on the Microsoft Flight Simulator, the Kodiak 100 joins Daher's TBM 930 very fast turboprop aircraft – which entered the virtual world with the simulator program's release in August 2020, becoming a popular choice among the gaming community.
"As in real life, our Kodiak and TBM aircraft family has developed a following of dedicated users in the world of flight simulation," concluded Nicolas Chabbert, the Senior Vice President of Daher's Aircraft Division. "We are pleased to be sharing the excitement of flying with an ever-wider number of aviation enthusiasts."