Daher enhances its footprint in Mexico while supporting Airbus Helicopters' metallic aerostructures activities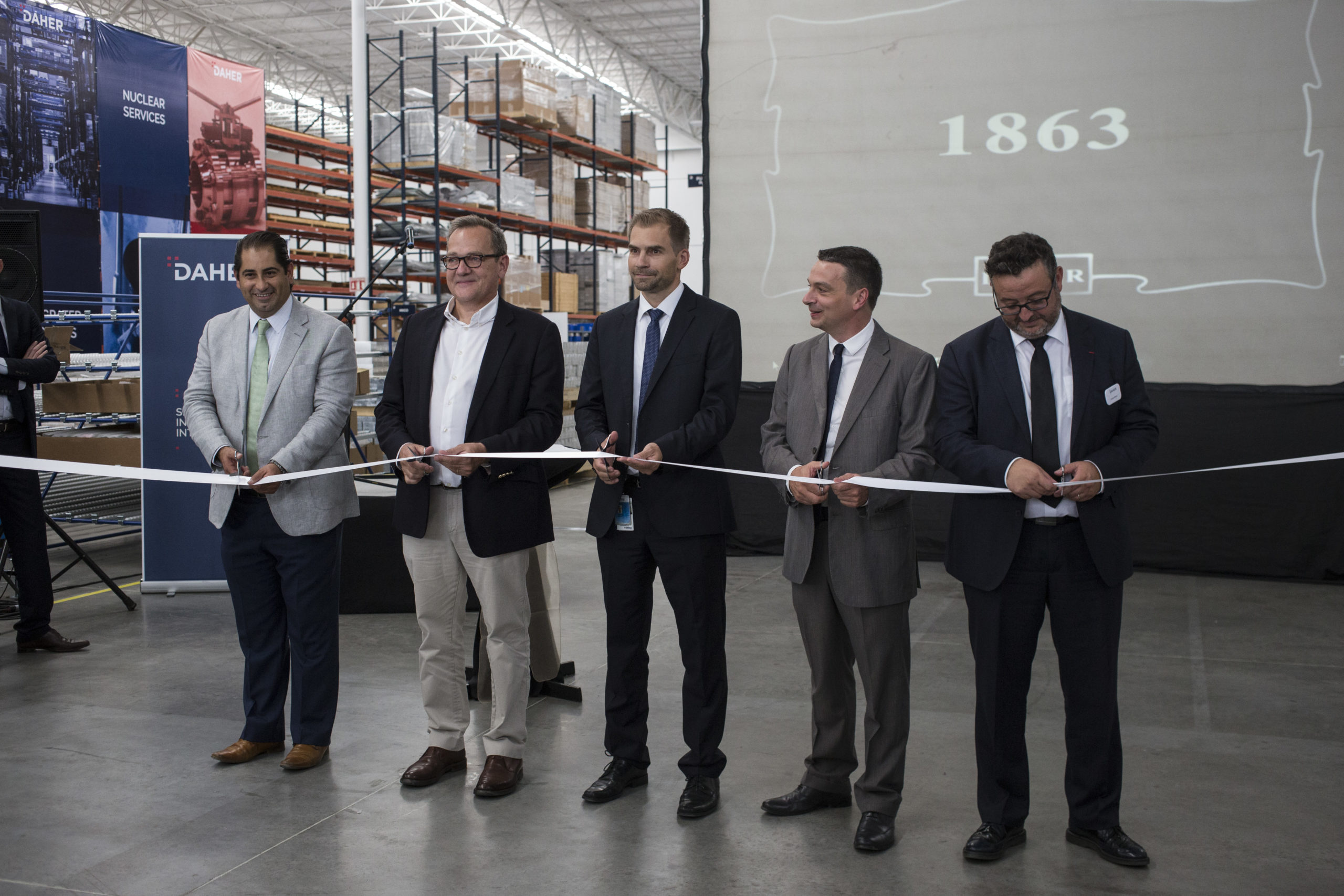 Daher today inaugurated its newest logistics and industrial facility, which supplies Airbus Helicopters' facility in Querétaro, Mexico, dedicated to Metallic Aerostructures Activities.
Located in a 3,200-sq. meter building, this facility supplies Airbus Helicopters' nearby production center of metallic aerostructures, which notably includes the production of over wing emergency exit doors and bulk cargo compartment doors for single-aisle jetliners.
Daher's responsibilities at its new Querétaro site underscore the company's expertise across a full spectrum of capabilities, from product and process engineering, industrial services and machining to supply chain logistics and transportation. Material management to the delivery of finished doors. The scope of Daher's operations at Querétaro includes forecasting and procurement of parts and chemicals required for the A320 door production; management of inbound material shipped by Airbus Helicopters in Germany to Mexico; customs clearance; along with inspection and warehousing.
After the material is accepted in Daher's Querétaro facility, the company performs on-site pre-cutting of aluminum plates used in the doors, then delivers all door components to Airbus Helicopters for production. The process is completed by Daher's reception of the finished doors from Airbus Helicopters; followed by their packaging and shipment to A320 final assembly lines.
"Such an end-to-end capability is unique to Daher, and it builds on the expertise from our business base that is equally balanced by industrial services and logistics," said Nicolas Orance, Senior Vice President of Daher's Aerospace and Defense Business Unit. "With the functions performed at Querétaro, we consider it a 'logistics factory' instead of the traditional logistics platform."
Orance added that the Querétaro facility is aligned with Daher's strategy of placing resources in close proximity to its customers, and ensuring flexibility in the range of services offered. Current employment is 20 persons – with the majority hired locally and trained for logistics, procurement, engineering methods and metal cutting for the aluminum plates. Enhancing Daher's footprint in Mexico for new business opportunities.
This new operation also reinforces Daher's presence in Mexico, positioning it for the anticipated expansion of Airbus Helicopters' production at the location, and for future business opportunities within the Querétaro region – a major aerospace manufacturing cluster – as well as elsewhere in the country to serve aviation, automotive and other sectors. Daher already has a factory in Nogales, Mexico, where it produces composite airframes.
Daher has provided logistics services for Airbus Helicopters in a growing partnership that began in 2004, and today encompasses support for the production of rotor craft at Airbus factories in France, Spain and Germany.