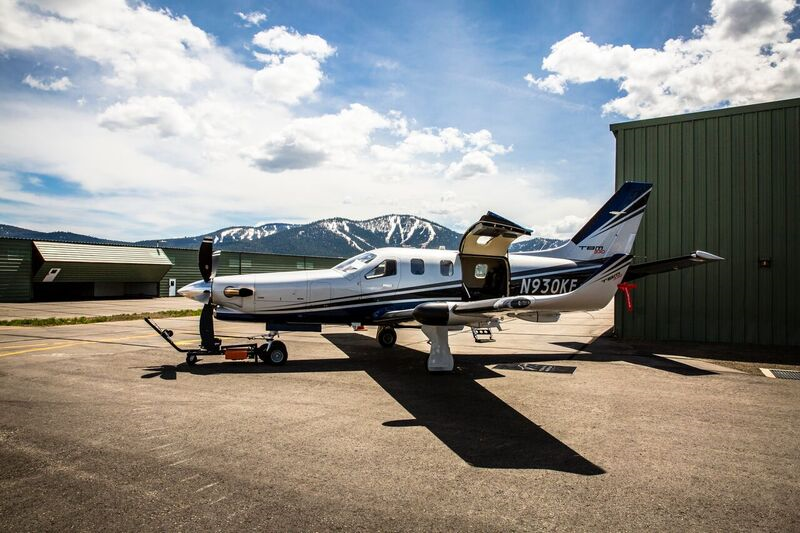 October 15, 2018 – The growing use of Daher's TBM very fast turboprop aircraft in charter services is being highlighted at this week's 2018 NBAA-BACE Business Aviation Convention and Exhibition, where the first operator of a TBM 930 for commercial flights was revealed.
During a press conference at the annual NBAA-BACE meeting in Orlando, Florida, Mountain Lion Aviation was introduced as the initial TBM 930 user for charters, benefitting from the speed, comfort, efficiency and operational capabilities of this top-line version in Daher's TBM 900-series aircraft family.
Since acquiring the TBM 930 last year, Mountain Lion Aviation has built up an impressive volume of services with the aircraft – flying 430 hours in 300 commercial flights that carried a total of 475 passengers.
Mountain Lion Aviation is based at California's Truckee Tahoe airport (KTRT) and was created as both a charter operator and flight school. Its location in the Sierra Nevada Mountains near Lake Tahoe places the company at a hub for technology-sector executives, entrepreneurs, business owners and other professionals who live, visit, or own a second home in the Truckee-Tahoe region – a popular destination on the border of California and Nevada.
With TBM 930's introduction into its fleet, Mountain Lion Aviation is offering personal transportation tailored to a high-value customer base seeking quality transportation that saves time and avoids California's notorious traffic-clogged roads.
"We salute the TBM 930's successful charter introduction by Mountain Lion Aviation, which has accumulated an impressive first year of activity," commented Nicolas Chabbert, Senior Vice President of the Daher Airplane Business Unit, and President of Daher Aircraft. "This is a clear indication that our very fast turboprop has an important role to play in the point-to-point air charter market."
Daher's TBM aircraft family responds to the expanding use of single-engine turboprop aircraft in air charters. In addition to U.S. commercial services, where numerous TBMs currently are employed for charters performed under FAA Part 135 certification, they are expanding worldwide – including Europe, which last year approved such operations with pressurized single-engine turboprops.
Many of the TBMs in commercial service worldwide today are earlier-production aircraft. Mountain Lion Aviation's use of the TBM 930 demonstrates the ability of operators to employ Daher's latest versions – the TBM 930 and TBM 910 – in profitable charter services.
"The TBM 930 is a unique aircraft: fast and cost-efficient, perfect for our activity, which we describe as being a 'mobility solution' provider – with full transportation services from door-to-door," explained Mountain Lion Aviation CEO Jim Wilkinson. "Most of our flying activity is on-demand for elite business leaders, and the TBM 930 is the perfect aircraft for these missions."