Daher's Kodiak 100 delivery to Héli-Béarn marks the first French customer for this turboprop-powered utility aircraft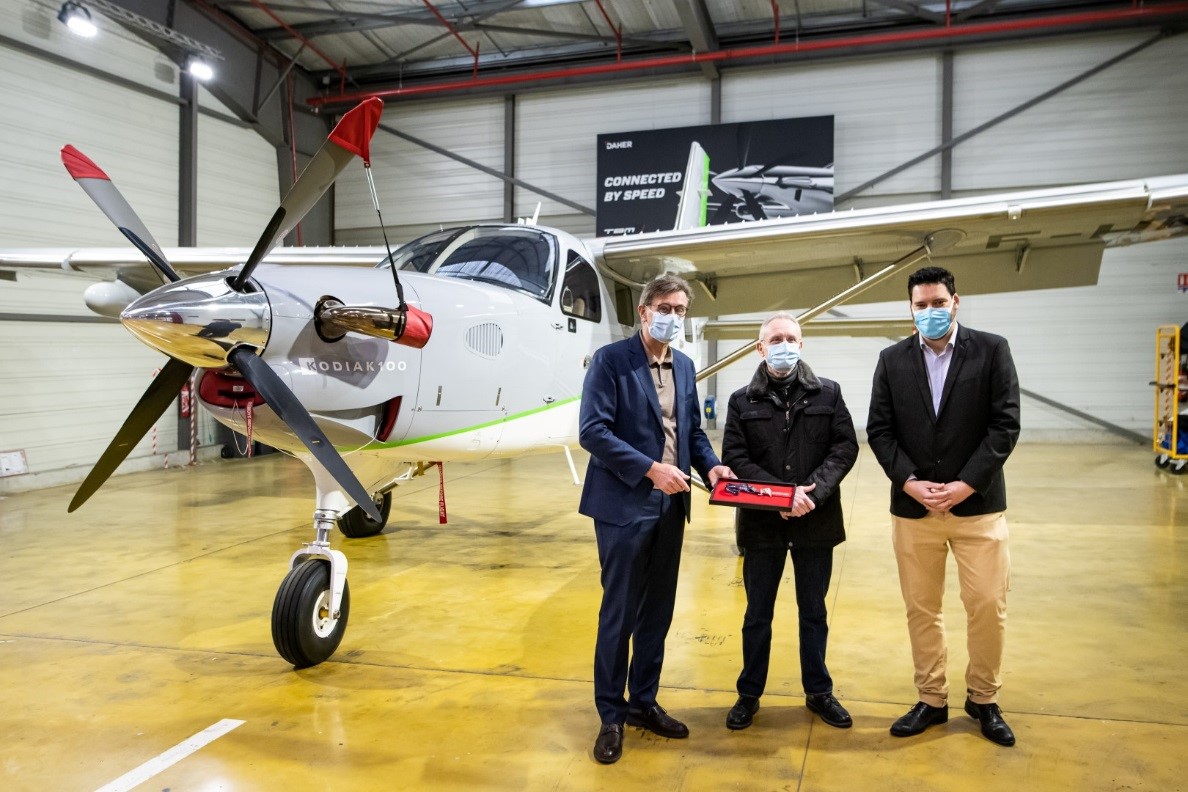 Tarbes, France, January 21, 2021 – The delivery of a Kodiak 100 to Héli-Béarn makes this air services company the first French customer for the utility aircraft member of Daher's single-engine turboprop-powered airplane product line.
Among the Kodiak 100's duties for Héli-Béarn – which is based at Pau-Pyrénées Airport in southwestern France – will be skydiving operations. In the skydiving configuration, the aircraft is equipped with a sliding door and accommodates up to 15 skydivers. Benefitting from its rapid climb capability of 9 min. 30 sec. to an altitude of 12,000 ft. (3,600 meters), the Kodiak 100 can perform an average of four rotations per hour for the deployment of parachutists.
Héli-Béarn CEO Jean-Luc Dartiailh said his company evaluated the Kodiak 100 in operational conditions and was rapidly convinced that it is the ideal aircraft – especially for skydiving flights.
As the safest aircraft in its class, the Kodiak 100 is rugged, reliable and modern – featuring STOL (short takeoff and landing) performance. It is produced in the United States at Sandpoint, Idaho. Daher acquired the business in 2019, adding the Kodiak to its product line of TBM very fast turboprop-powered aircraft.
"As an aerial services provider, we were interested in the Kodiak as soon as we learned that Daher had purchased the company," Héli-Béarn's Jean-Luc Dartiailh added.
Héli-Béarn was founded in 1996 and is focused on transportation and aerial work with both fixed-wing airplanes and helicopters, while also providing aviation maintenance, training and consulting services. Included in its airplane fleet is a Daher-built TBM 700 aircraft.