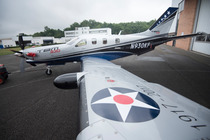 Daher showcases at AirVenture Oshkosh, its family of Very Fast Turboprop alongside a replica of a TBM-ancestor, the Morane-Saulnier Type L. This WWI-era aircraft replica is shown publicly for the first time at the EAA's 2017 AirVenture Fly-In at Oshkosh Wittman Regional Airport, Wisconsin, July 24-30.
After the roll-out of the assembled plane on May 23rd, the display in Wisconsin alongside TBMs is a milestone of 6 years of an adventure which started in 2011 at the 100th anniversary of the Daher's roots as an aircraft manufacturer. "We chose to present the type L at Oshkosh this year, as it marks the 100th anniversary of the USA entering world war one which had an enormous influence in developing aviation worldwide." Explained Nicolas Chabbert, senior Vice president of Daher's airplane business unit. "A seniority in aircraft manufacturing which is reflected in our TBM 910 and 930". The project is supported since its beginnings by Daher with workspace, tooling and expertise.
The participation to AirVenture Oshkosh is a project itself and need Daher's logistics expertise to win the challenge of bringing this unique and fragile aeroplane from Daher industrial site at Tarbes-Lourdes-Pyrenees, France to Oshkosh, Wisconsin, USA.
For the fragile but 22 ft long airframe of the Morane-Saulnier 'Parasol' replica, Daher special project department designed a specific crate for the shipment to make it practical and protecting this piece of aviation history;
The crate travel by truck to Le Havre harbor, France, to be shipped to New York harbor, then truck to Wisconsin,
The travel is monitored by Daher transport department; this transport is a proving test for Daher's connected container developed in partnership with Traxens Company. The crate equipped with the Traxbox® is tracked all the way, to be sure this unique cargo will arrive on time on July 19th;
The crate is lifted by a special mobile crane for heavy loads (up to 5,000 lbs.) to deliver the 2,869 lbs. crate into Chapter 252 hangar where the plane will be assembled.