Daher presents a range of tailored solutions for cabin products & services
Aircraft Interiors 2018 – Stand 6C 50
Paris, April 5, 2018 – Daher will present its complete range of cabin products & services at the Aircraft Interiors Show in Hamburg from April 10 to 12. Highlights will include software designed to optimize cabin configurations and enable faster delivery. From design and production to comprehensive supply chain management and after-sales services, Daher develops turnkey solutions to meet its customers' every need.

Daher is an aircraft manufacturer, equipment supplier and service provider. The company draws on its unparalleled expertise and comprehensive value-chain services to deliver turnkey solutions to customers, including:
► Management of supplies right up to production lines
► Cabin products & services (initial installation and modification)
► Development, manufacture and installation of solutions (floor coverings, insulation blankets, cargo nets and air distribution systems)
► Operational support and maintenance
Daher has the full range of certification needed to offer services of the highest standard in design (Part 21J), production (Part 21G), maintenance (Part 145) and military applications (FAR 145).
Every day at 3pm, the DaherLab will present our innovative solutions for cabin outfitting
"Over the past year, Daher has significantly invested in its cabin products & services business, leveraging its experience as a TBM aircraft manufacturer and logistics specialist to offer customers a complete range of turnkey services. This ability to cover the entire value chain has allowed us to win the trust of key players like Airbus, for which we handle the all aspects of cabin products and services, from assembly and integration of different components to final quality control and handover."  Nicolas Orance, Senior Vice President – Aerospace & Defense Business Unit
Daher cabin products & services: key figures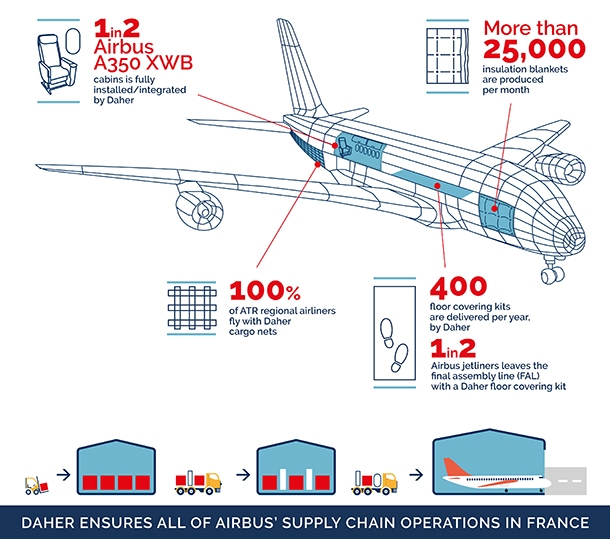 > Learn more: Read our dedicated newsletter "Aircraft Interior Newsletter"