Paris, September 6, 2016 – The teams at DAHER are organizing and managing transport and logistics for electrical substation equipment built by Siemens as part of the Lake Turkana Wind Power project, the largest of its kind in Africa.
This new infrastructure will provide Kenyans with clean, renewable energy.
DAHER, the integrated logistics provider for the project, is tasked with transporting equipment from Europe, Turkey, Tunisia, India and China to the Loiyangalani site near Lake Turkana, about 1,000 km from Mombasa. DAHER is managing the sea freight, storage, transport and delivery of the equipment to the construction site.
Since March 2015, DAHER is supporting Siemens in the LTWP project providing them with:
– the expertise and specialist capabilities required to transport the electrical equipment – which includes 10 transformers each weighing 55 metric tons – from the manufacturing plants to the construction site at Lake Turkana.
– the ability to form partnerships in East Africa that encompass the management of conditions specific to the region.
The largest wind farm in Africa will have capacity of 310 MW by Summer 2017. The 365 wind turbines installed on the 40,000 hectare site will provide Kenyans with clean, renewable energy.
"We are very proud to be a part of this project alongside the teams at Siemens. Our teams and local partners have demonstrated our company's know-how while adjusting to the evolving needs inherent to such a project. Our expertise in logistics, industrial project management and field support enabled us to successfully complete the project, which is vital to Kenya's development", says Pascal Laguerre, Senior Vice President Transport & Projects.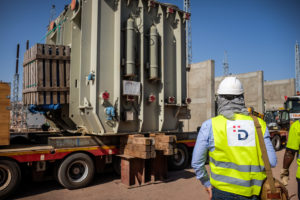 Contact: Communication Department